Our Story
Fight Forever Wrestling Established 2018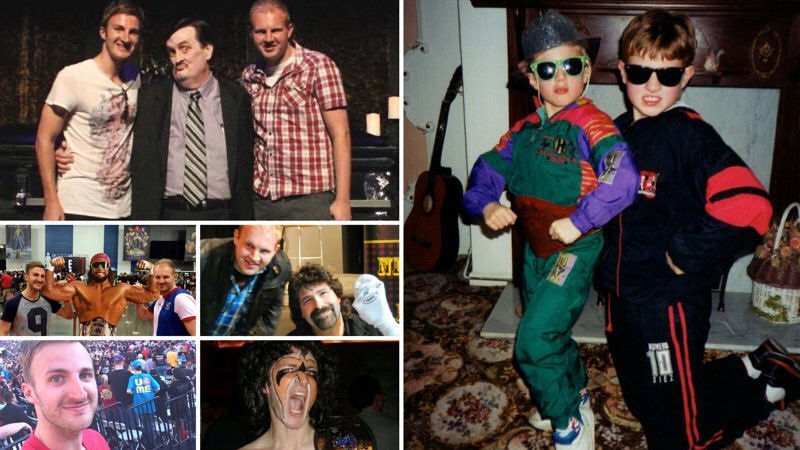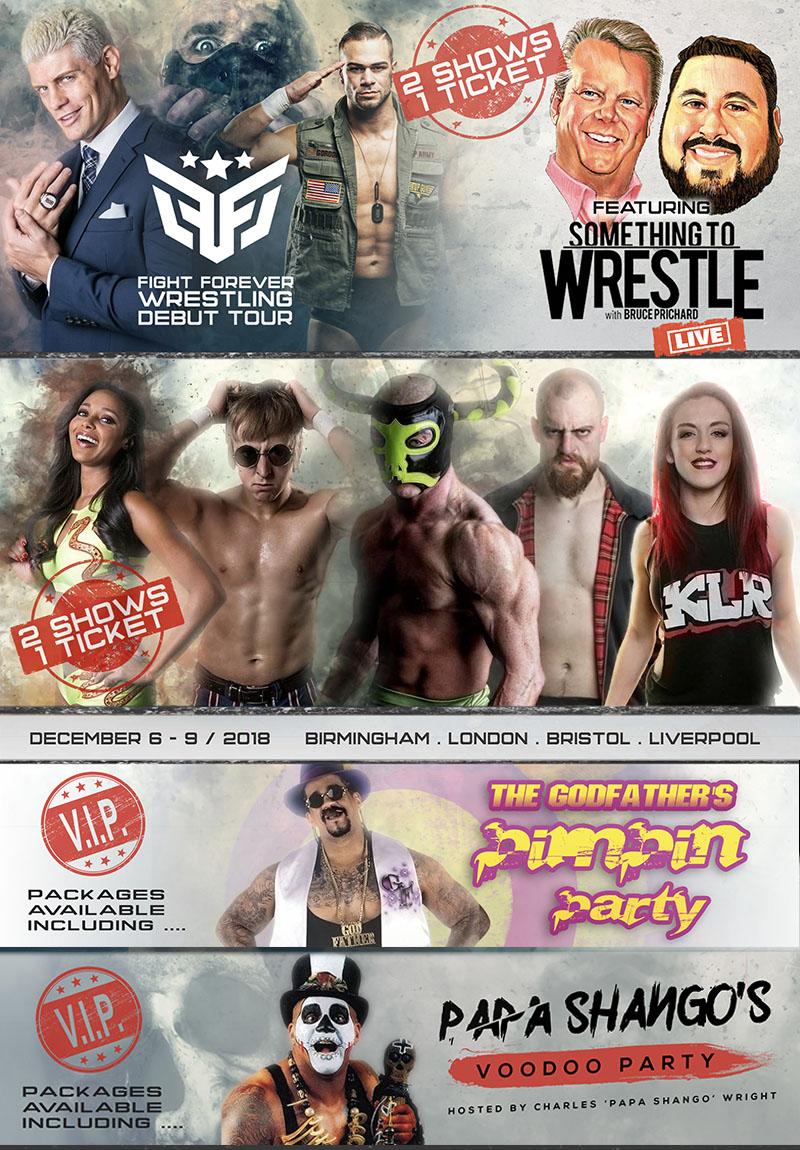 Welcome to Fight Forever Wrestling!
At the start of 2018, we were two wrestling fans with a mission, or a ridiculous idea, depending on how you view it. The plan? To bring together 6,000 likeminded wrestling fans in attendance at the most ambitiously anticipated and hugely entertaining wrestling tour in UK history.
So, what's our formal background in this industry? Absolutely nothing, since you ask, other than the fact that we are huge fans of this popular yet unique entertainment sector. We're Jonathon and Simon Kay, and when the oldest of us (that's Jonathon) started watching wrestling at 6 years old, younger brother Simon would soon copy the behaviour – as he did with most things!
As avid fans, we'll always remember and revere our stage favourites, and for us, these definitely included Hulk Hogan, Ultimate Warrior, 'Macho Man' Randy Savage, The Undertaker and Bret 'The Hitman' Hart. We remember watching our first matches on VHS. Feeling old, yet? As soon as we were old enough to be left unsupervised at Global Video in Bolton whilst our dad did the Saturday morning big shop across the road in Asda, we'd spend a good hour picking out a selection to hire to give us our WWE fix. We'd then spend all weekend watching early Wrestlemania, SummerSlam and Royal Rumble events instead of 'getting outside and playing', which we're sure our parents would have preferred. Back in those days of the nineties, we didn't have Sky or anything similar, so anything we excitedly devoured on video had actually already played out around 3 months earlier in 'real life'… It didn't matter to us.
As any young wrestling fan will know, watching the entertainment unfold on screen just wasn't enough to quench the wrestling thirst, and our world soon became all about the merch. We'd collect all the action figures (we still reckon we've got over 60 in our collection), play swapsies with all the stickers, worship the posters on our walls, and then collapse under garish duvet covers depicting our favourite stars after a long day of re-enacting potentially quite dangerous wrestling 'moves'. Does life get any better than that when you're a kid?
We went to our first live wrestling event at Blackburn Ice Rink (now upgraded to 'Arena') in 1995. Again, it was our dad who had the joy of sharing in our pursuits. He wasn't exactly a fan of the over-the-top characters, and he was even less enthusiastic about the re-enactments his kids would embark on in the middle of supermarkets, but he knew we were happy. It didn't exactly 'keep us quiet' as they say in parenting parlance, but we were happy nonetheless. Dressed in our costumes (us kids, not our dad), we stormed to the front of the stage every time someone came out to the loud music. The main event on that night was 'Macho Man' Randy Savage vs Crush. We'll never forget the thrill of the live action.
Though our parents assumed we'd grow up and grow out of our hobby, as is the natural progression with things and the fickle nature of kids, our love of wrestling actually heightened (or got worse) as we got older. We finally got Sky, and our weekends started early on Friday nights, when we'd settle in to watch WWE Raw. Grandma had the joy of babystitting, to relieve our parents of their nerves.
In 2008, in our mid-twenties by age if not maturity, the pair of us travelled to Florida for WrestleMania 24. It was an amazing experience, and what we believed at the time to be the pinnacle of our fandom. We went on to attend a further five WrestleMania events in the USA, and have treated our mum and our other halves to the spectacle on several occasions.
That's the wrestling story of our lives, but did we find time in our busy schedule to do other things, like build our careers? Let's find out.
Jonathon had been working in a secondary school as a Marketing Manager before starting up his own business, North Star Digital, in 2013. He'd enjoyed a successful five years, but deep down, always wanted to do something more with his interest and love of wrestling. He felt that there was more to offer in the industry, and believed that the skills he'd developed in business could help this.
Simon had taken a different route, and had moved to China, where he's been teaching English for the past ten years. He and his wife, along with their baby daughter, are soon returning to England, and when Jonathon found out that this was his plan, he knew it was a good time to strike up a discussion with him about something they could possibly do together to rekindle their romance with wrestling.
We weren't very far into that discussion before we'd decided that a dream would be to set up and promote a series of wrestling events. No backing and no idea? No problem! Our love of wrestling would see us right.
The project is entirely self-financed, so whilst some may see this as a gamble, it only makes us more determined to pull this off. With the support of other likeminded wrestling fans, we believe we can do this. We've got much to learn, but we've already laid the foundations to get this off the ground (and into the ring)!
By this point, you still may not be entirely convinced that this idea can work, but somehow, via a trip to New Orleans with bags packed with enthusiasm, determination, and a focus on sharing our passion with the pros, Fight Forever Wrestling is proud to announce that we have secured, for the fans, 'The American Nightmare' Cody, Brandi Rhodes, The Godfather, Flip Gordon, Jimmy Havoc, Zack Gibson, James Drake, Flash Morgan Webster, El Ligero, Joe Hendry, Rampage Brown and Travis Banks. In addition, let's not leave out legends Bruce Prichard and Conrad Thompson, who are on board to present, perform and podcast at each of the events!
How's that roster looking for a couple of English blokes who have no background in the wrestling industry whatsoever? Until now, that is.
Fight Forever Wrestling. For the fans, for the fight; forever.